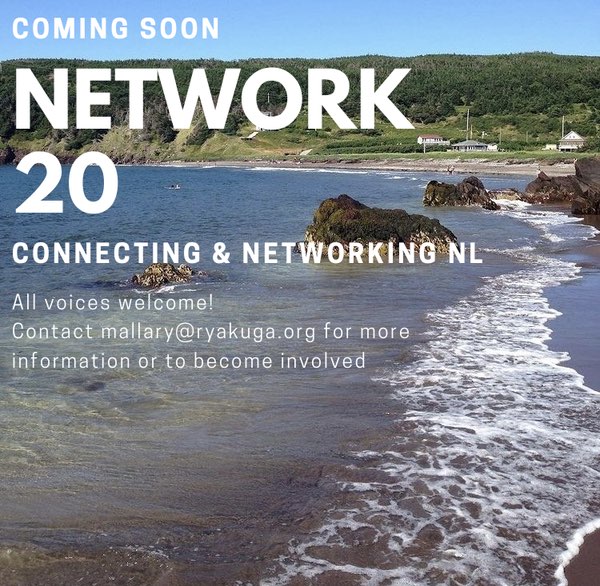 April 15: We plan to launch The Conversation soon. Contact Mallary McGrath for more
information.

We will publicize dates and times of The Conversation by Twitter and Facebook - and
this website.

Network NL is a community media process focusing on media literacy and sharing information
- using participatory technologies - the people's voice.

Our current methodology combines a Living Website with Internet Radio (1,000 listener capacity),
Skype Conferencing, plus NL Community Media Archives.

Goal: To promote, stream and archive discussion (chat) focused
on themes related to rural NL community development.

This process is a work in progress and designed to evolve with
participant input.

Suggested template:

1. Initial contact.

2. Participants discuss and decide process.

3. Ryakuga designs technical implementation for participant approval.

4. If the decision is to stream live, the internet radio station will typically be at a remote site connected to the internet for input and output.

5. Input to the internet radio station will be by phone/Skype and output will be servers/global audience with a capacity for 1000 listeners.

6. The discussion (chat) will either be in one place or participants will connect remotely by Skype or phone.

Options:

1. Pre-record and archive.

2. Stream live, then archive.

Living website:

http://www.ryakuga.ca/

Audio archive:

http://www.ryakuga.com/podcast/index.html

Video archive:

https://www.youtube.com/user/ryakugacollaborative/videos

Some themes:

1. Resettlement

2. NL participatory community media.

3. Regionalization and Amalgamation

4. Women in municipal governance.

5. Positive stories about rural NL

6. Participatory conferences and group decision making.

7. Community networking.

8. Community group networking.

9. Unfunded projects by rural groups.

10. Rural environment.

11. Food Security.

12. Immigration and Outmigration.




A note pasted on a community art installation at the Corner Brook CU Expo 2013
Elayne Harris and Frederic Dupre.