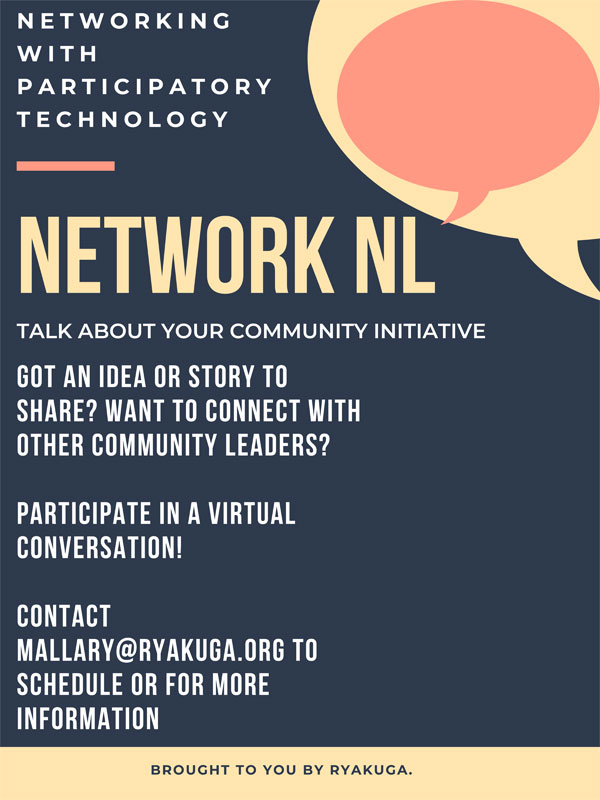 January 4, 2021:

Participatory Evaluation:

See side column.

January 1, 2021:

Network 20 - hosted by Mallary, Brennan and Fred - actually happened.

The focus was the Irish Connection (Marconi 20/20) and it was the first
utilization of a Ryakuga Zoooom Channel Popup ! combined with Internet Radio,
Email, and a Living Website. All coordinated on a 2 meg rural broadband connection?

Stay tuned to more ideas on using this technology in the New Year!

Meanwhile, here are the links to an archive of the Network 20 media:

Irish Heart of Newfoundland: a video made by seven women of the Cape Shore,
assisted by Bruce Gilbert (lead) and Fred Campbell, sponsored by Cape Shore
Area Development Association, 1991.

In September 2010, Dan Murphy arranged with Declan Gibbons, station manager at Community Radio Youghal for programming to be shared between Feile Tilting radio, Fogo Island, and County Cork.

Network 20 - 12 noon NL, December 31, 2020 - mixed media networking.

Next year we are hoping for a real event - even outdoors - with help from Grenfell Campus.

But this year, the plan is for a virtual mix.

Active adaptation - Open Systems Theory.

This was supposed to be the year of Marconi 20/20 (See the sidebar link).

One could suggest the link between NL and Ireland is one of the strongest
networks on the planet.

So here is the plan:

We begin with the Ryakuga Zooom Channel Popup !

Contact mallary@ryakuga.org for zoom information.

Our Network 20 begins with Conversation.

Then we activate the Zooom Channel - for
The Irish Heart of Newfoundland - the most popular
video on the Ryakuga Collaborative Channel.

More than 31,000 views !

After the video, we will return to the Conversation.

Then Network 20 signs off with an internet radio broadcast
of a popular program from Feile Tilting 2010(and the inspiration
for Marconi 2020).

That year we shared programming with Radio Youghal - and talked back
and forth using Skype.

You will find the live internet broadcast at www.ryakuga.net/webcast/
or by clicking the networking globe at the top of this page.

The plan.




A note pasted on a community art installation at the Corner Brook CU Expo 2013
Elayne Harris and Frederic Dupre.