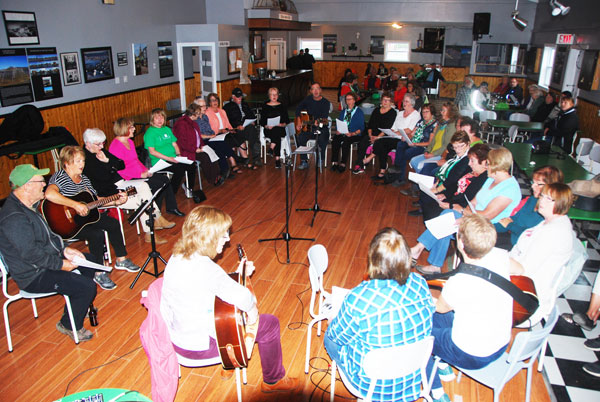 Cyril Burke says: As you might expect, I will be on the air a few times during the "Feile Tilting" weekend.
I would like to have a chat on the radio with some folks that are "not home." I have recruited a few already,
but if you have friends or family away, in other parts of the world, I would love to hear from them.
There are several people from the area "on the rigs or at sea," "in the air or underground," "working in camps"
and "all over the place" so pass on the message. My cell is 266 – 7732 and you can call or text me. My address is burkecyril@yahoo.com if you prefer email. Thanks, Cyril .

September 19 - Official opening tonight preceded by Readings and Recitations at the Slipway
hosted by Roy Dwyer recorded to play tomorrow. Meanwhile we have had many requests to replay
the Song Circle from Sexton's Cafe - so stay tuned at 7 pm (Tilting Time : )

95.1FM in Tilting and 102.5 in Fogo.

September 18 - 4,700 hits on our internet radio yesterday - thank you

Weather has changed - sunshine on the harbour - we are planning on going live
from Sexton's Cafe at 8 pm.

September 17 - Having problems with Webcast 1? Try the remote - click here.

6 pm - Song Circle coming soon from Sexton's cafe - be patient - it's blowing a gale
on Fogo Island.

1 pm - On air in Tilting - 95.1 FM.

8 am - The internet playlist is on air now. Click the link at the top of the page.

This is a living webpage - constantly updating. Refresh your browser to see the latest content.

If we can get set up on time, we hope to jump the gun on our initial starting time and
begin live programming on Tuesday, September 17 - The Tilting Cup, Song circle, 7:00 pm.

Stay tuned for Feile Tilting 19 - 95.1 Stereo FM in St. Patrick's Hall, and 102.5 in Fogo.

This year we are planning a companion station at the Marconi Wireless Interpretation Centre.

Feile Tilting 2019 was originally scheduled Thursday, September 21 until Sunday, September 22.

The broadcast is being simultaneously and globally webcast from this site.

We are inviting people to join us by Skype; add Ryakuga as a contact; we will accept;
then we can arrange by email when to chat.

ryakuga.nl@gmail.com


Everything either on or linked to
from Ryakuga websites is the
copyright of the respective writer or

artist and should not be reproduced
without their permission.